Post by Emily Elizabeth Fox on Dec 10, 2010 17:47:40 GMT -5
Emily Elizabeth Fox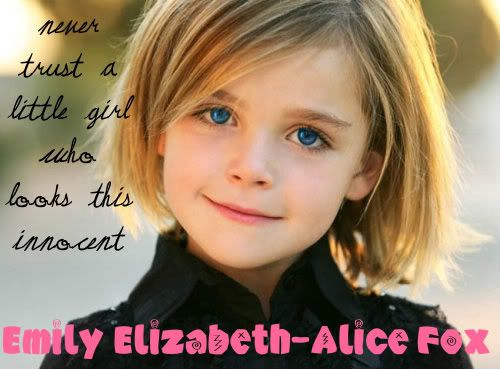 Well I heard there was a secret chord
That David played, and it pleased the Lord
But you don't really care for music, do ya?
Well it goes like this
The fourth, the fifth
The minor fall and the major lift
The baffled king composing Hallelujah
-Jeff Buckly
When I Caught Myself
[/i]
The face behind the mask
[/color]
My name is
Margaret
and i've been around the world
14
times.
I've broken
3
hearts and I'm loving it.
I heard about this place from
www.gleedefyinggravity.proboards.com
and I control
Margaret Fox
. Want my autograph?
Write me here:
PM
.
I also read the rules. Want proof?
Pumpkin!
RP Sample:

She'd been unresponsive since the miniute she'd goten up. Her jaws where bolted, and her eyes seemdd to be serching for something that wasn't there. Margarte Fox was having 'one of those days' one of those days meant she couldn't controle her thoughts, her memorys punishingly returning, forcing the pain back into her. Like pealing off a scab. If you did it to much it would never heal, and you'd be scared. It didn't happen often, just barely enough to the point Margate was aware of what it meant, and when to expect it. Every few months since she'd been taken into foster care.

It had dwendled since than, to barely nothing. She'd used to have attacks of old hurt daily, screaming, and scratching her self like a mad child. Hurt and comfort. This now barely happened a few times a year, and it wasn't as drmatic as it had ben in the past, but still disturbing to a person who hadn't had the knowlage of Margarte's past. And everytime it happened, another factor of her abuse decended back into the bottomles abyss of pain and denial. On these days, to the rest of the world at least, she seemed like a normal teenager, unintrested, board, and just plain out moody. Simly minds fall for simple tricks. All most like who is mote was more foolish, the fool him self, or the person who follows the fool?

Margaret was the fool, but she had wit, no doubt, but she was the joker in the deck of cards, thrown into the world just to get people pissed. And she enjoyed it. She could live off of just the knowalge of peopels annoyance of her mere precance. She grew up with that. Being hated. Though now it was like her own personal high. Marina, one of her close friends, probally knew this, and just never let on that she did. Perhaps everyone did. Maybe they just played with her head, maybe this was their act, to keep her safe, and sane. Margaret was anything but those two things.

She walked like a ghost through the halls, the normally loud chatter sounded like high pitched wasp's wings, buzzing in her head. Walk. Breath. Blink. Repeat. That's all she could do. Truthfully, thats all she needed to do. She reached her locker, and didn't make any movements, as though she expected that a monster of some sort would jump out at any given moment. Well.... This WAS Margaret's locker.... God only knows what could be in there... Nevertheless, she opened it. No impending death. No boogie man. Only three school books. Math, Social Studies, and Science. She took all three, not daring to test fate again, and meet the boogie man in her locker thank you very much!

Margaret turned, and rested her back against her locker. She closed her eyes,and rested. Sweet sleep, sweet rest, Don't forget yet. Margaret thought to her self, and exhaled. Only 5 million more years, and 8 class periods to go. Margaret told her self, a slim smile on her lips.
[/center]
I Had To Stop Myself
[/i]
This is my true mask
[/color][/center]
Name:
Emily Elizabeth Fox
Nickname(s):
Emmy, Baby, Em's
Age:
seven
DOB:
11/6/03
Hometown:
Alpharetta Georgia
Species:
Witch
You Got It You Got It
[/i]
I just want to see you
[/color][/center]
Hair:
blonde, shoulder length, plain.
Eyes:
blue
Height:
3'4
Weight:
74 pounds
Build:
Slender
General appearance:
Normal, kinda a mix between punk, and preppy.
Play By:
Kiernan Shipka
Canon or original?:
Original
Some Kind Of Magic
[/i]
I want to know what you're like
[/color][/center]
Likes:
The color, paint, walk around, draw, run around, getting lost, avoiding trouble, laughing, apples, Ducks.
Dislikes:
Writing, reading, learning, trouble, mean people, Parents, teachers, Dogs, the dark.
Strengths:
She is smart, fun, energetic, loyal, and has a good sense of her self and the world.
Weaknesses:
Is a tad annoying, clingy, disruptive, violent.
Habits/Quirks:
Can be, Annoying, rude, talks back, talks to her self, and tends to scratch her arms till they bleed.
Secrets:
She is being abused, and is extremely intelligence than what she lets people believe.
Goals:
To learn as many spells as she can, To get out of her abusive situation, find her Daddy
Personality:
Emily is a little timid, she's been driven into a protective shell. But once you get through to her, you get to know she's an extremely loving child. Emily can't stand to see people hurt. She likes to be in control, since most of the time she's not. Emily is rather clingy, and looks for a good role model to follow around since her parents are out of the question.
She's a good girl, she really is, but trouble follows her. Try as she might, she all ways finds her self in the wrong place at the wrong time. She sometimes relies on her magic to heavily, and sometime to little.
Hypnotic Hypnotic
[/i]
Where did you come from?
[/color][/center]
Mother:
Holly, 26, College student
Father:
Bradly, 39, docker at a harbor
Siblings:
N/A
Other Important People:
N/A
History:
My life started out normal, to some extent I suppose. I lived with my single mother, Holly. She loved me, she really did, but she was just so emotionally unstable, and well I guess being an alcoholic doesn't help you when your in that state of mind , now dose it? She was normal at first.
She hugged me a lot, and kissed me to, and came in my room, and comforted me when I was so scared I could wet my self. Sadly that lasted about until I was three. That's when Discipline turned in to punishment that grew to be out of control. sometimes I was to badly hurt to even meekly crawl away, even if it meant saving my life. soon, my Mother used The corner treatment. she would send me to the corner of my room, and make me sit on my hands, while I cocked my head back to look at the celling. She would leave me for hours in there, while I begged her to let me use the bathroom.
I stopped asking when one day she came in to the room, and started beating me with her belt, while screaming : "GO SIT ON THE POTTY NOW! HUH? CAN YOU?!?!?" of course I couldn't sit down, I could barely breath at this point in a beating. When Mother decided The corner treatment was no longer working, the mirror treatment took action. Mother would simply grab me, drag me in to the bath room, and slam my tear streaked face in to the mirror, while she ordered me to yell over, and over again: "I'm a bad girl! I'm a bad girl! I'm a bad girl! I'm a bad girl!" Than she would leave me to stair in to the mirror. As I wobbled back, and forth with a killer head ache, not ever did I fall to the ground. I knew that would just result in getting a beating. also the fact Mother would check on me, and if I was not standing to her expectations, she would repeat the always painful Mirror treatment. Once at home when I was around he age of three or fore, Mother ordered me to strip of my clothes, and stand by the kitchen stove. I shook from a combination of fear, and humiliation.
Than she revealed my hideous crime. I'd forgotten to give my hamster water that morning. I argued that my hamster HAD water, ands it didn't need changing. My answer was returned with a hard punch in the face. Mother than reached over to the gas burners on the stove. Mother than told me about a mother who had made her son lay on top of a burning stove. I felt Mother clamp my arm as if in a vice grip.
"You've made my life a living hell!! Now it's time I made you see what hell is like!" she yelled in to my ears. Gripping my arm, Mother held it in to the orange blue flames. I can still smell the sent of my burning flesh My skin seemed to explode from the heat. As I fought to make an escape, It came clear that Mother had no intention of loosing the death grip she had on me. Finally after 5 minutes of struggling I fell to the ground trying to blow cool air on my arm. "To bad your drunken Fathers not hear to save you." Mother hissed. Mother than ordered me to clime on top of the stove so she could watch me burn.
I refused, crying, and pleading. I felt so scared, I stomped my foot in protest. But Mother kept forcing me on top of the stove. I watched the flames praying to the grace of God that the gas would run out. I knew my Father would be home soon. He would save me, he would, Mother never acted this rash when he was home. I felt the flames scorch my legs, and thighs, and the pain of being burned spread up to my bottom, and than to my lower back.
I cried, and tried to scream, but mother slammed her her hand to my mouth. Than the door opened, and all the blood from my Mother's face went away. For a moment, time stood still. Mother lost her grip, and I jumped down from the stove, and on the way grabbing what clothes I could, and running in to my room, sobbing. My entire body hurt, and it felt like I still was laying on the stove. My Mother came in to the room ; belt in hand. That had to be her favorite thing to use on me, she certainly used it enough to make that clear.
As the blows came down upon me I soon realized, that I had won! Anything was better than being burned alive on the stove! Mother than left, her face red as a tomato. "You watch the Girl! I can't take her any more!" she yelled at Father. He nodded, than came in to my room. I ran to him, still sobbing hard. "D-D-D-Daddy!" I sputtered in between sobs, as I hugged his legs, because that's the only part of him I could reach.
He came down to my size, and stroked my cheek, than took out a hanky from his pants pocket, and wiped my tears away. He hugged me, I loved his hugs they weren't at all rare, but I loved them as if I only got them every few hundred years. "Don't worry Emily, one day we'll both get out of this Madhouse." he said to me sweetly. at that point in my life, that was a hope, and a dream. Unfortunately, it was in my fathers hands. My almost always drunk, never home, Father. What could go wrong?
Almost anything could, and it did. One day Father...... never came home. For months on end I waited. And waited, And waited, And waited, And waited, And waited, And waited, And waited. He never came back. I was stuck. I was stuck in the house that I now called : "The Mad house" .
Not much changed, Mother still beat me, but she made up these sick twisted so called "Games". One of her games was "Find the thing" things that my Mother had apparently lost. I'm sure some of the things she said she had lost, she never had at all. I always imagined coming up to Mother while holding her lost thing, and being greeted with hugs, and kisses. My fantasies always included, myself, and my Mother living happily ever after. Sadly, my fairy-tale would never end like that. Mostly because it would never start.
Of all Mothers so called games, and punishments, I hated the gas chamber the most. Mother would send me to the bathroom to clean it, and come in with a mix on ammonia, and Clorox, in the room with me. Even tho I acted as tho I was frightened, I was not the least bit afraid. Well, only until she closed the door... With the room sealed, The air in the room quickly changed. In the corner of the Bathroom I dropped to my hands, and knees in a coughing fit. I could feel my insides twisting in side of me. I managed to kick the bucket to the door.
Mostly because I wanted it to be as far away from me as possible, and I wanted that B**** I called Mother to get a taste of her own medicine. Than I took a cloth, and put it over my mouth; like a gas mask. Than I looked over to the air vent. I knew air came out of there every few minutes. I pressed my face to it. Sweet relief overwhelmed me when the cool air came out. I could breath.
I was....... I was still alive.
You're Leaving Me Breathless
[/size][/font]
The credits
[/color]
This application was made by Katrina.
Please
do not
steal this template!
Credits go to me of course. and to the song I Caught Myself by Paramore!
Great song! Great band! If you don't credit,
then a pack of rabid dogs will come after you.[/center]